Inside Our Winter Pond Cover
 After some very cold days and nights, I thought I should check inside our winter pond cover to see how things were doing. Each winter, for the past several years, we cover our koi pond with a temporary greenhouse structure or winter pond cover. This simple structure is made with PVC conduit and covered with clear  plastic which allows the sunshine in and traps the heat, while keeping the cold winds off the surface of the pond. Not only does this pond cover prevent the pond from freezing during the winter, it helps the water temperature warm up earlier in the spring so that I can start feeding the fish about one month earlier than normal. This 'shortening' of the winter really helps koi and goldfish (frogs, tadpoles etc.) survive long winters (especially here in Canada).
As usual, the pond was almost free of ice, with just an PondMaster AP20 aerator running (no pond de-icer or heater). You can see a small area of very thin ice in the bottom left corner of the photo below, but that's not bad for the middle of January, a few days after the temperature was -24°C.
Inside Our Winter Pond Cover (middle of January)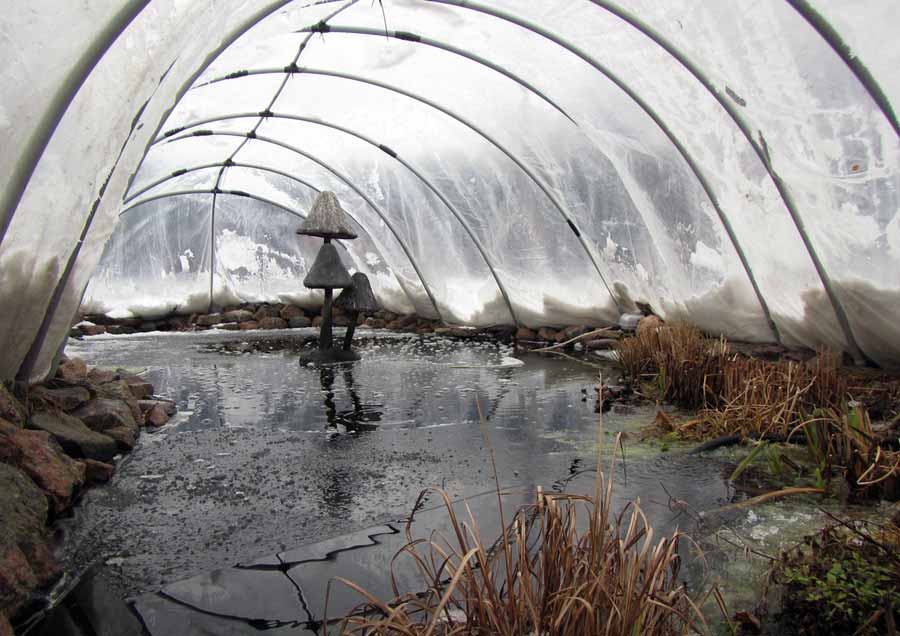 These covers work on small to fairly large ponds. Our koi pond pictured above is approximately 12′ wide by 32′ long. Best of all, this winter pond cover is quite easy to build and can be assembled in a few hours. Plus, it can be disassembled and stored in a fairly small area during the spring and summer when not in use. If you think this would be a something that might benefit your fish next winter, get detailed instructions how to build your own cover and the materials needed, on our How to Build a Winter Pond Cover page.